Frequently Asked Questions (FAQ)
To save you having to telephone or email, we have compiled a list of questions that we frequently get asked – and have provided answers to them.
From "Where to park your car?" to "Does the boat have a bar?"!
Just scroll down the list and if you find the question you want answering, click on the icon to the right of that question.
You will find that some of the answers have links to other resources (such as "Where is the nearest bus stop?"). Just click on the answer and a page will open for that resource.
If you find you still have unanswered questions, please do not hesitate to contact us.
Where is the departure and return point for boat trips?
The boat is moored in Victoria Quay, Swansea Maritime Quarter.
Close to LC2 and the new Swansea Arena and next to The National Waterfront Museum and Gigi Gao's Chinese restaurant, Copper Jack is moored next to the Helwick Lightship.
Postcode SA1 3RD
I will be travelling by car. Where are the nearest car parks?
Being located in the centre of Swansea, there are many car parks within easy walking distance.
The closest being the Copr Bay South multi storey car park (part of new Swansea Arena).
Its address being Oystermouth Road, Swansea SA1 3BX
Further details can be found here: https://www.swansea.gov.uk/article/15873/Copr-Bay-South-Multi-Storey-Car-Park
For those using Three Little Words it can be found here: ///having.magic.charmingly
For registered disabled access, there is limited parking at the end of Anchor Court (Maritime Quarter, Swansea SA1 3RD). The disabled parking spaces are approximately 50 meters from the quayside for accessing the boat. Please note this road is otherwise restricted to residents only (so don't risk picking up a parking fine!)
I will be travelling by bus. Where is the nearest bus stop?
Swansea Bus and Coach Station is approximately 5 minutes walk from the departure point.
The bus and coach station is the main arrival / departure point for both local and national bus and coach routes.
Further details including opening times and timetables can be found here:
https://www.swansea.gov.uk/article/4115/Bus-information
I will be travelling by train. How do I get from the train station to the boat?
Swansea Train Station is approximately 15 minutes walk (0.7 miles) from the departure point.
Alternatively there is a taxi rank outside the station to take you directly to the Maritime Quarter and a bus stop which can take you to Swansea Bus Station (which is then a 5 minute walk to the departure point.
Where is the nearest drop-off / pick-up point?
For disabled access, there is limited parking at the end of Anchor Court (Maritime Quarter, Swansea SA1 3RD).
Anchor Court is otherwise a restricted road for residents only.
For all other drop offs, there are a small number of roads that are within a couple of minutes walk to the departure point.
These include; Burrows Close, Maritime Quarter, Swansea SA1 3RD and Gloucester Pl, Maritime Quarter, Swansea SA1 1TT.
I am a coach operator. Where is the nearest coach park?
The closest drop off and collect location is
Next to Swansea Museum (not the National Waterfront Museum). This is located on Burrows Place, SA1 1SN (https://what3words.com/flown.cloth.most).
Once the coach has dropped off, there is a coach park by Fabrian Way Park and Ride
Can we come onboard in a wheelchair?
There is step-free access to our boat (Copper Jack) from the quayside via a sloping wooden pontoon. 
The boat has a hydraulic  lift for carrying a wheelchair user from the pontoon to inside the boat. 
The floor of the boat is level throughout and seating can be moved to accommodate wheelchairs.
Copper Jack as a fully accessible toilet.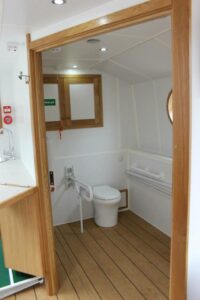 What is a family ticket?
2 adults and 2 children (5+)
What age range covers child tickets?
How do I book tickets?
We are currently working on a system that will allow you to book tickets via our website.
Until this is fully operational, tickets can be booked by completing a booking form on the website, by telephoning: 07785 347549 or via email at enquiries@scbt.org.uk.
How do I pay for my tickets?
Until we have a fully operational booking system (which we hope to have in place for the 2023 season), payment for tickets on scheduled sailing are made when you come onboard.
Charter cruises require deposits to be paid when making the booking.
Can I book the whole boat for a special event?
We welcome bookings for special events, whether celebrating a special occasion, company meeting, school outing or otherwise.
Please contact us by telephoning: 07785 347549 or via email at enquiries@scbt.org.uk to discuss your requirements.
Can I just turn up for a scheduled boat trip if I haven't booked?
It is strongly recommended that you pre-book tickets for a scheduled cruise to avoid disappointment.
You are of course welcome to just turn up in the hope that we have spaces onboard.
Who qualifies for concessionary tickets?
Any of the following:
Seniors (60+ years old)

Registered disabled

Carers assisting other passengers

Students (on production of Student Id)
What time should I arrive for my pre-booked trip?
If you have pre-booked your trip, you should arrive approximately 15 minutes before the scheduled departure time.
Please note we do not preallocate seats, and although you will have a seat for a pre-booked ticket, seating is taken on a first come, first served basis.
Do you have gift vouchers that I can buy for friends/family?
Gift vouchers can be bought onboard or via contacting us by telephoning: 07785 347549 or via email at enquiries@scbt.org.uk.
What happens if my cruise is cancelled?
If we have to cancel a cruise, we will endeavour to contact you ASAP. We will offer you a full refund, or the option to rebook on another cruise.
I arrived too late for my cruise, what can I do now?
We appreciate circumstances where you are unable to make it in time for your cruise.
Although we do not offer a refund for you arriving too late for your cruise, we will offer you the option to rebook on another cruise.
What if I change my mind. Can I get a refund?
With the exception of chartered cruises, where you have booked on a scheduled cruise, you will not have prepaid for your cruise. As such, there is nothing to refund. However, if you no longer want to or are unable to make it for your booked trip, we kindly request that you let us know. Just as we allow you to book without deposits or full payment, we would hope that you would have the courtesy to let us know if you change your mind.
What is the name of the boat?
Our first boat was called Black Prince and served us until 2013 when we commissioned the design and build of "Copper Jack" / "Jac Copr" which was launched in 2014.
How safe is the boat?
The boat and its crew are fully licensed by the Maritime Coastguard Agency (MCA). This official body would not allow us to operate the boat if they were not satisfied with the safety of the boat.
Rest assured, you are extremely safe on Copper Jack.
How big is the boat?
At over 57ft long and licensed to carry 47 passengers, Copper Jack is one of the largest boats in Swansea Marina.
How many passengers can the boat carry?
Copper Jack is licensed by the Maritime Coastguard Agency (MCA) to carry up to 47 passengers.
Where did the boat come from?
Copper Jack / Jac Copr was designed by Pratt Naval Architecture and built by Colecraft Engineering in Strafford-upon-Avon.
What powers the boat?
The boat is propelled by a Vetus Deutz diesel engine and a Vetus diesel generator.
Steering from the stern using a tiller and assisted by bow and stern hydraulic thrusters.
Do the windows of the boat open to provide ventilation?
Copper Jack has large windows on both sides of the boat, in the roof and at the front (bow).
The windows provide all-round viewing of the route.
For safety, the side windows have horizontal hopper-style windows that can be opened to provide for ventilation.
The front (bow) window and entrance can also be opened to provide for ventilation if required – though access to these is prevented during the cruise.
Can I bring my dog onboard?
Only guide / assistance dogs are allowed onboard.
Can I bring my bicycle on the boat?
Bicycles cannot be brought onboard. However they can be safely left on the pontoon which is locked to public access when we depart.
The pontoon has a metal railing to which you can lock your bicycle (with your own lock).
Can I bring my child's pram/pushchair on the boat?
Pushchairs can be brought onboard where space permits. Alternatively, as with bicycles, they can be safely left on the pontoon which is locked to public access when we depart.
How do we board and disembark the boat?
Boarding and disembarking Copper Jack is via a single entry point (though there are a number of other emergency exits).
The entry point is accessed via a pontoon leading from the quayside. A wide ramp is provided from the pontoon to the entrance of the boat, from which there are 4 wide steps with handrails leading to the main cabin.
For those with limited mobility, or using  wheelchair, Copper Jack has a hydraulic lift to take users from the pontoon to the cabin without any steps.
Can I take photos or videos on the boat?
We encourage you to take photos and videos whilst on board, and even better share them on your social media.
Does the boat have a bar?
Copper Jack is a fully licensed bar serving alcoholic and nonalcoholic beverages, tea, coffee and other hot and cold drinks. Snacks such as biscuits, crisps and occasionally other treats (such as Welsh cakes!).
Do you have souvenirs for sale?
We carry a small number of souvenirs and other items for sale. These include mugs, T-shirts, polo shirts, fridge magnets etc.
Is there anywhere to store items on the boat?
The boat cabin has very limited space – especially when we are fully booked. Although we can accommodate a limited number of personal items (such as pushchairs), we kindly request you do not bring onboard large items other than handbagage (handbags, small rucksacks etc)
How long does the trip last?
Scheduled boat trips last for 90 minutes
Does the boat have a toilet?
Copper Jack as a toilet and washroom. This facility is fully accessible for those with wheelchairs.
What should I wear?
Although we have no control over the weather conditions for your arrival and departure to the boat, whilst onboard you will be within a fully enclosed cabin.
The cabin has central heating for those colder days, and although we do not have air conditioning, the windows can be partially opened to allow for air circulation.
Will I get wet?
As per the "What should I wear?" reply, the cabin is fully enclosed. So regardless of the weather conditions outside, you can rest assured you will stay dry during the cruise
What will I see on the trip?
Other than the spectacular sights of the marina, river tawe and landscapes – many of which will be discussed during the live commentary, you may get to see some brilliant wildlife.
Is there a commentary on the boat during the trip?
Most of our trips have live commentary during the trip. This will cover both the history of the industrial heritage of Swansea through to the present day.
To accompany the commentary you will not only be able to see the spectacular scenery of the present day, but will have sight of screens displaying historical images of the heyday of when Swansea was known as Copperoplois.
Can I walk down the side of the boat or sit at the stern or bow?
All passengers must remain inside the cabin of the boat during the boat trip.
The crew are the only ones allowed to walk down the side (gunwale) of the boat, bow and stern decks.
Does the boat have life jackets?
We carry NN adult and NN child life vests. 
Life jackets / vests are not required to be worn whilst onboard.
Does the boat have a life raft?
Copper Jack does not have ONE life raft, it has TWO. Thankfully we have never has to use one, though always nice to know they are there should we ever need to use them.
What fire protection does the boat have?
The engine room is fully protected by a STAT-X fire suppression/protection system and the cabin equipped with regulatory fire extinguishers.
I get sea sick, is the boat stable?
Our boat trips travel through the Tawe Basin and along the River Tawe.
This waterway is protected by the Tawe Barrage making for a typically calm and relaxing journey.
The boat is extremely stable and travelling at less than 10mph should not trouble someone who suffers from being sea sick.
Why would a boat trip be cancelled?
Cancellation might occur if the skipper deems that the weather conditions, for example high wind strengths or heavy rain at the time of sailing, would not be advised for reasons of crew safety and passenger comfort.
That said, weather conditions are constantly monitored and, where possible, advance notice of a cancellation would be made
The weather looked fine and the sun was shining so why was my cruise cancelled?
Cancellation on what appears to be a nice day might be the result of a previous storm that has rendered the river level/flow too hazardous for the sailing.