FAQ - What facilities are there for disabled passengers?
Can we come onboard in a wheelchair?
There is step-free access to our boat (Copper Jack) from the quayside via a sloping wooden pontoon. 
The boat has a hydraulic  lift for carrying a wheelchair user or those with limited mobility from the pontoon to inside the boat. 
The floor of the boat is level throughout and seating can be moved to accommodate wheelchairs.
Copper Jack has a fully accessible toilet.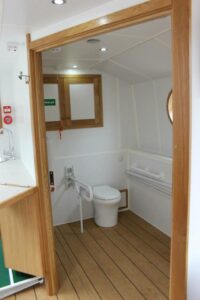 How do we board and disembark the boat?
Boarding and disembarking Copper Jack is via a single entry point (though there are a number of other emergency exits).
The entry point is accessed via a pontoon leading from the quayside. A wide ramp is provided from the pontoon to the entrance of the boat, from which there are 4 wide steps with handrails leading to the main cabin.
For those with limited mobility, or using  wheelchair, Copper Jack has a hydraulic lift to take users from the pontoon to the cabin without any steps.
Does the boat have a toilet?
Copper Jack has a toilet and washroom. This facility is fully accessible for those with wheelchairs.